Central Fire Station - 331 Scott Street
History of Station
Prior to the organization of the present Davenport Fire Department on May 1, 1882, the downtown area was served by several volunteer organizations. These groups were often parochial in nature in regards to nationality, religion and types of businesses they served.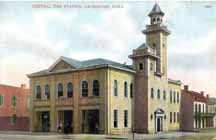 Central Fire Station 1902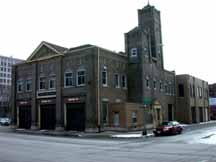 Central Fire Station 2005
The Fire King Engine and Hose Company was organized on December 7, 1857. The Fire Kings were housed on the south side of the alley between Brady and Perry Streets until 1878. From 1878 until organization of DFD in 1882 the Fire Kings occupied a firehouse which still stands today on the east side of Perry Street between River Drive and Second Street.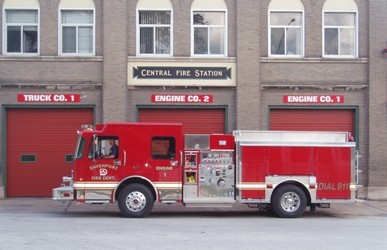 The Pioneer Hook and Ladder Company was also organized in the latter part of the 1850's. They held quarters at the Western Avenue Market House located between 4th and 5th streets. The building was owned by the City of Davenport and was partially occupied by various meat and garden vendors. The Rescue Hand Engine Company took residence here until a fire in the winter of 1871 "which wiped the Market House and fire apparatus from the face of the earth". These companies were disbanded by the City on May 1,1882. A two story double brick engine house at 4fh and Scott streets was used until torn down in the spring of 1901 to make way for the present Central Fire Station.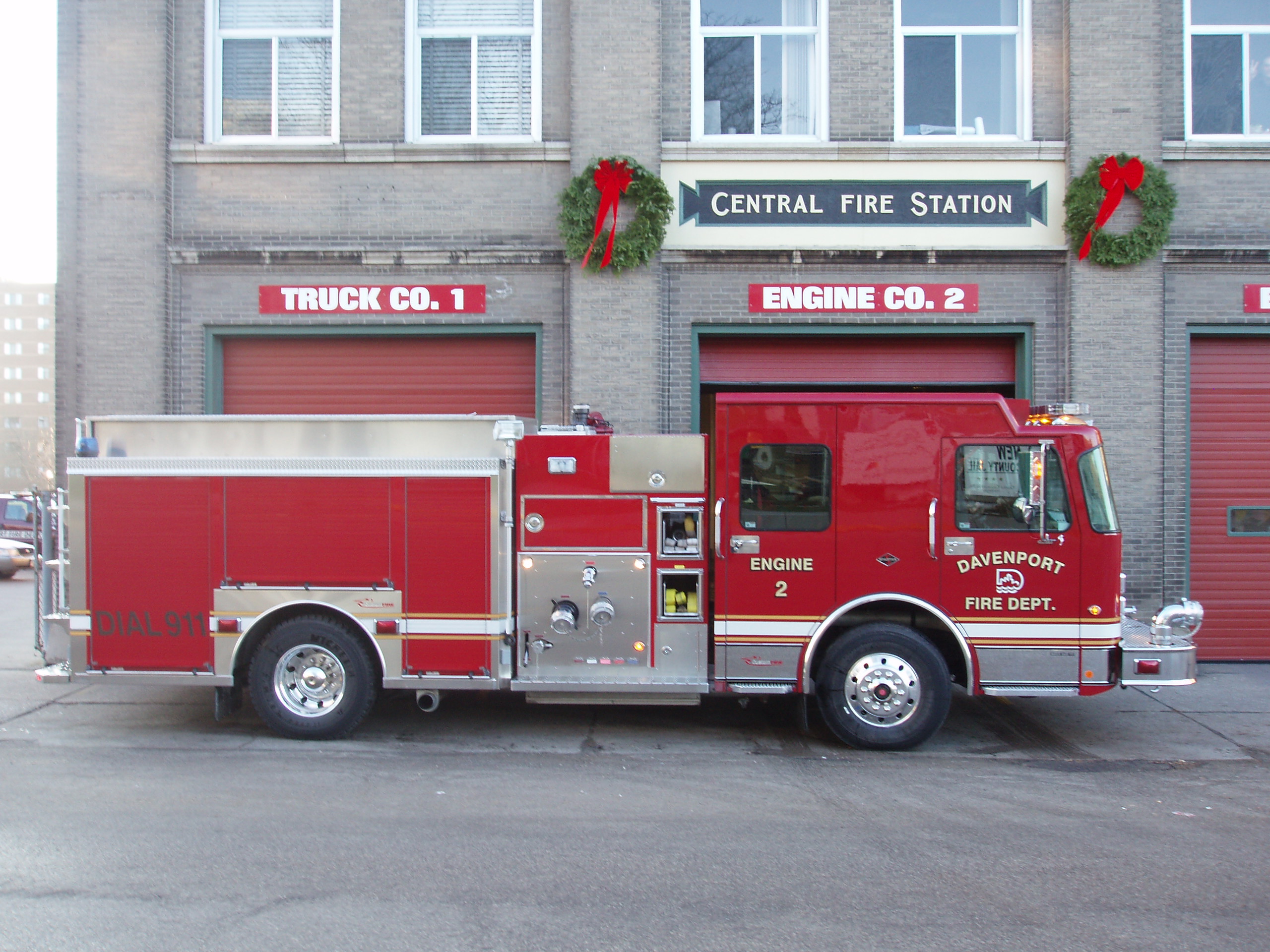 Engine 2
Central Fire Station began service in 1905. There have been many changes over the years. A few to the exterior and many on the interior. Most modifications were made to keep up with our changing world and fire service. A two-story addition was added on the south side in the 1930's or 40's. This portion of the building houses a double garage bay, rescue boat bay and 5-story training tower on the first floor. The second floor contains a classroom, station maintenance room, Training Officer, Hazardous Materials Coordinator, EMS Coordinator offices and exercise room. The original portion of Central Fire Station contains a bay for Chief's car and confined space rescue van. There is also an apparatus bay for the District Chief's car. Engine 1, Engine 2 and Truck 1. Upstairs from this area is the Chief's office, Assistant Chief's office, Fire Prevention Bureau's office, District Chief's office and Captain's office. Twenty four-hour shift personnel make use of a kitchen, lounge, men's and women's locker rooms and a dormitory style bedroom. Two brass poles make quick responses possible from the bedroom to apparatus floor. A steel pole also runs from the lounge to the chief's bay. There is also a 75-foot hose tower on the apparatus floor.


The Fire Prevention Bureau consists of the Fire Marshal, Fire Education Lieutenant, Commercial Inspection Lieutenant, Hazardous Materials Lieutenant and Bureau Secretary. The administrative office has the Fire Chief, Assistant Fire Chief and Administrative Assistant.



Personnel
Thirty-nine 24-hour shift personnel call Central Fire Station their home.
Run Volume
District Chief's car #1 answered 1,249 calls in 2005. Engine #1 had 1,864 runs. Engine #2 answered 2,062 calls. Tower #1 had 480 calls.
Apparatus
Engine Company #1 and Engine Company #2 are two of our NEW Engines. Engine Company #1 was put in service on July 28, 2006 and Engine Company #2 was put in service on October 19, 2006. They were part of the six fire trucks that were purchased in 2006. Manufactured by Custom Fire Apparatus of Osceola,
Wisconsin, t
hey are a 2006 Custom Fire Apparatus side-mounted pumper on a Spartan Metro Star Chassis with a 184 inch wheel base. They have a gross vehicle weight of 42,000 lbs. with 18,000 lbs. on the front axle and 24,000 lbs. on the rear axle.These vehicles are powered by a Cummins ISL, 6 cylinder, 540 cubic inch, 400 horsepower diesel engine.The transmission is an Allison model 3000 EVS, five speed transmission. The midship fire pump is a Waterous model CSUC10C, 1500 gpm centrifugal single stage, supplied by a 500 gallon fiberglass tank.The hose bed contains 850 feet of 5" supply hose, 600 feet of 2-1/2" supply hose, and 200 feet of 2-1/2" pre-connected Blitz line.
Tower #l, or Truck Co. #1, was put in service on September 11, 1996. It is one of three aerial towers that were purchased from Sutphen Corporation out of Columbus, Ohio. Tower #1 has a reach of 100 feet and has two 750 gpm nozzles mounted to each side of the bucket. Water is supplied by a 1500 gpm Hale single stage centrifugal pump powered by a Detroit Diesel Series 60, 470 hp, 77300 in engine. Also it has an Allison 4 speed HT 740 D transmission. Gross Vehicle Weight is 61,000 with the front axle rated at 20,300 and the rear axle at 36,442. Tower #1 has a wheel base of 252". The rear hose bed carries 850 feet of 5" supply hose. Tower #1 is called "Bubba II", but is also known as "The Big Show".
Tower 1 "Bubba II"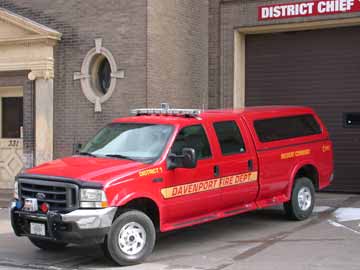 Besides the obvious types of responses dictated by the nature of apparatus, Engine #1's crew is responsible for station maintenance at all of DFD's seven fire stations. Tower #1 is responsible for repair and maintenance of all fire apparatus, vehicles and mechanical equipment.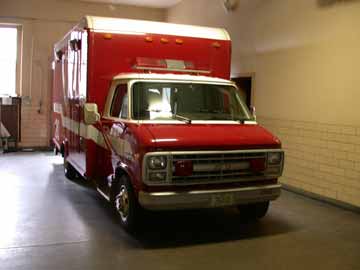 Air Supply