Fire Station #3 - 3506 Harrison Street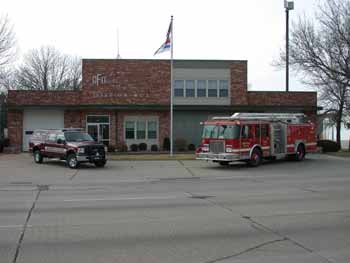 Station 3
History of the Station
Station #3 was formerly in the 300 block of E. Locust Street and relocated to 3506 Harrison Street in 1964. This building features two stories with a training room, offices and a kitchen on the first floor. A living room and the bedroom are located on the 2nd floor. There are also 2 poles at this location.
Personnel
There are 12 personnel assigned to Station #3. This includes: 1 captain, 2 lieutenants, 3 engineers, 6 fire fighters.


Service Area
Station #3 has a solo boundary that includes Locust Street on the South, Eastern Avenue on the East, 53rd Street to the North, and as far West as Pine Street. The general territory includes the entire center section of the city from the Mississippi River to the City limits in the North.
Run Volume
Engine #3 answered 2,036 calls in 2005 and District Chief #2 answered 425 calls in 2005.
Specialty or Area of Expertise
Training and Fire Investigation are the two areas of expertise that Station #3 handles for the City of
Davenport
.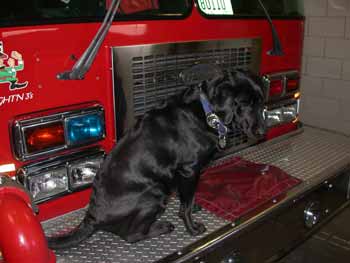 ATF Certified Accelerant Detection K-9, "Brite"
Other Items of Interest
Station #3 survived the Duck Creek flood of 1990. But while the crew responded to numerous calls during this time, they returned to Station #3 finding 3 ft. of water throughout the building.
Engine Company #3 was put in service on April 4, 1997. It was manufactured by General Safety Equipment Co. of Wyoming, MN. The chassis is a fully enclosed 4-door Spartan Lo-Pro Gladiator cab with 3 SCBA mounted seats and 1 air-ride drivers' seat. The cab is equipped with a Setcom #900 headset system-allowing rig to dispatch communications plus person to person vox talk around communications.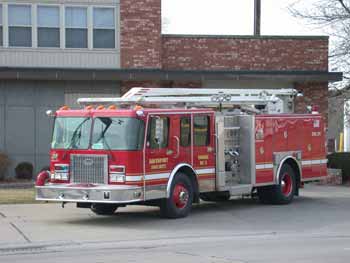 Engine 3
Apparatus
Engine 3's drivetrain includes a 370hp, 12.7L
Detroit
Diesel turbocharged Series 60 motor and an /Allison HT-740 4-speed automatic transmission. The rear axle is equipped with a differential lock for positive rear axle traction. The midship pump is a 1250 GPM Waterous #CS single stage centrifugal pump. Standard air shift pump controls are located on the cab doghouse with *D" Drive being the pumping gear and high gear lock-up is automatic. There are three 5" Storz intakes with the front intake having an electric control valve switch on the pump panel. Officers side panel has three 2-1/2" discharges and one 2-1/2" gated intake while the drivers side panel has two 2-1/2" discharges and one 2-1/2" gated intake. The hose bed has one 2-1/2" discharge for the 200' blitz line and the rear tailboard has two 2-1/2" gated valves for discharges or Squirt only inlets. There are no rear intakes for the pump. Engine 3 has a 500-gallon Poly tank. The hose bed contains 1200' of 5" hose, 750' of 2.5" hose, and a 200' blitz line.
The apparatus has a GVW of 49,000 Ibs. with 18,000 Ibs. on the front and 31,000 Ibs. on the rear axle. The overall length is 32'-5" with a 190" wheelbase. The widest point is 9'-4" (112") at the rear view mirrors. The rear wheel wells measure 8'-9"(105") wide. The travel height is 10'-l"(121").
Engine #3 has 2 unique features; the Squirt aerial master stream and the hydraulic ladder rack.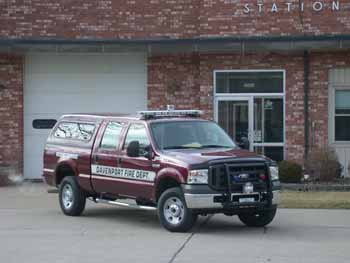 District Chief 2