Fire Station #4 - 1805 E. Locust Street
"Pride of the Eastside"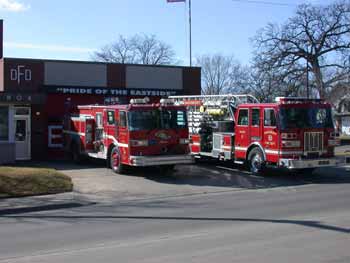 Station 4
Station 4, located at 1805 East Locust Street, was built in 1964, to replace the old station 4 situated at Jersey Ridge Road and East 11th Street, due to city expansion. This station is currently the smallest, square footage wise, in use by the City of Davenport. At present there 24 firefighters assigned to the 2 rigs quartered there. The station has no upper or lower floors, so there is no need for any poles. One of the main tasks of the station at this time is the relaying of information to the media.
Personnel
There are 24 personnel assigned to Station 4: 2 Captains, 4 Lieutenants, 6 Engineers, and 12 Fire Fighters.

Apparatus
Engine Company #4 was put in service on September 7, 2006. It is one of six fire engines purchased in 2006. It was manufactured by Custom Fire Apparatus of Osceola,
Wisconsin
. It is a 2006 Custom Fire Apparatus side-mounted pumper on a Spartan Metro Star Chassis with a 184 inch wheel base. It has a gross vehicle weight of 42,000 lbs. with 18,000 lbs. on the front axle and 24,000 lbs. on the rear axle.This vehicle is powered by a Cummins ISL, 6 cylinder, 540 cubic inch, 400 horsepower diesel engine.The transmission is an Allison model 3000 EVS, five speed transmission. The midship fire pump is a Waterous model CSUC10C, 1500 gpm centrifugal single stage, supplied by a 500 gallon fiberglass tank.The hose bed contains 850 feet of 5" supply hose, 600 feet of 2-1/2" supply hose, and 200 feet of 2-1/2" pre-connected Blitz line.
Run Volume

The run volume for the year of 2005 was 837 for Truck 2, and 1,907 for Engine 4, with the majority of those being emergency medical runs. The territory encompassed by these two rigs has some of the oldest and historic houses in the City of
Davenport
.
Specialty or Area of Expertise
Training is currently being undertaken by all firefighters assigned to the station in the high angle and confined space rescue fields.
Engine 4
Truck Company #2 was put in service on September 1, 2002. Truck Company #2 and Truck Company #3 were both purchased at the same time from Sutphen Corporation out of
Columbus, Ohio
. Truck Co. #2 is a 75' aerial platform powered by a Detroit Series 60, 430 hp, and 12.7 HR engine with a 5 speed Allison transmission. Gross Vehicle Weight is 48,500. Truck Co. #2 has two 750 gpm nozzles in the bucket supplied by a Hale single stage centrifugal pump rated at 1,500 gpm. It has a booster tank of 300 gallon capacity. The hose bed has 850' of 5" supply hose and 200' of 2-1/2" hose.